What makes a drafting chair ergonomic ?
I've been a draftsman since 1979 and I think I have a pretty good idea about what makes a drafting chair ergonomic. The drafting chair should be a tool like any other which helps you get your work done. It shouldnt get in the way, nor leave you feeling tired and aching after sitting in it all day.

One of the features thats nice to have is mesh backing. If you are sitting in a drafting chair for any length of time in a warm office the chair can get hot and sticky. A chair with a mesh back gives you plenty of ventilation so you dont start sweating and start sticking to the chair. The mesh back also makes the chair a lot lighter.


Mesh backs are nice but some of them can get quite expensive. This version just has a padded seat and an open back to provide better ventilation.


The next drafting chair is one with a tractor seat. This might not appear comfortable at first glance. They allow contour themselves to your body as you shift around on the chair while working on your drawings. The footrest is also helpful in making this drafting chair ergonomic too. you use the footrest to balance yourself especially if you are working on a large near vertical drafting board. The foot rest also helps relieve fatigue by taking some of the pressure off the back of your legs.


You most likely wont need a drafting chair with arms because they just tend to get in the way if you are working on a drafting board. Usually your hands are resting on the board anyway. The chair arms just tend to poke into your ribs when you slide back into the chair. Save the arms for your recliner at home!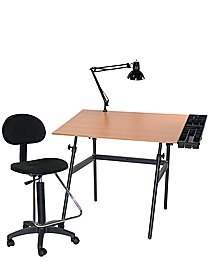 Click here to return to the home page from the drafting chair ergonomic page